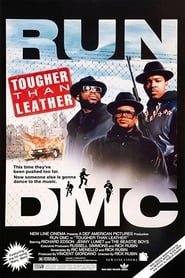 0.00/5 0 Votes
Title:
Tougher Than Leather
Genre: Crime,Drama,Music
Director: Rick Rubin
Cast: Darryl McDaniels,Jason Mizell,Joseph Simmons,Russell Simmons,Michael Diamond,Adam Yauch,Richard Edson,Adam Horovitz,Rick Rubin,Jenny Lumet
Release: 1988-09-26
Runtime: 87
Plot:
Legendary hip-hop group Run-D.M.C. must find and punish the evil drug lord-record company executive who murdered their friend. Along the way, they encounter racist bikers, blonde bimbos, and the Beastie Boys!
RUN DMC - Beats To The Rhyme (Video)

RUN DMC - Run's House (Official Video)

RUN DMC - Mary, Mary (Video)

Run DMC a 123 Jovanotti 1988

RUN DMC on Behind The Beat

Run DMC New Coke Commercial (1988)

Run-DMC - Tougher Than Leather Trailer

RUN DMC "Say No To Drugs" Mar 10 1988 Anti Drug PSAs

Run Dmc at the Tougher Than Leather after party (1988) Yo Mtv Raps