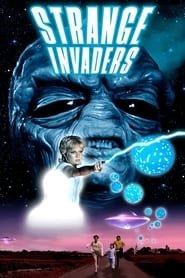 0.00/5 0 Votes
Title:
Strange Invaders
Genre: Horror,Mystery,Science Fiction
Director: Michael Laughlin
Cast: Paul Le Mat,Nancy Allen,Diana Scarwid,Michael Lerner,Louise Fletcher,Wallace Shawn,Fiona Lewis,Kenneth Tobey,June Lockhart,Charles Lane,Joel Cohen,Dan Shor,Dey Young,Jack Kehler,Thomas Kopache,Bobby Pickett,Bill Condon,Lulu Sylbert,Mark Goddard,Connie Kellers,Jonathan Ulmer,Patti Medwid,Edwina Follows
Release: 1983-09-16
Runtime: 92
Plot:
Charlie's ex-wife disappears, and he goes to where she grew up--a rural town in the midwest--to look for her. But, surprisingly, nobody knows about her or any of her many relatives, the Newmans. He meets aliens; but when he contacts the FBI, they don't believe him. He tells his story to a tabloid; and suddenly, he is chased by the aliens.