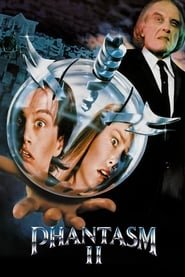 0.00/5 0 Votes
Title:
Phantasm II
Genre: Action,Horror,Science Fiction,Thriller
Director: Don Coscarelli
Cast: James Le Gros,Reggie Bannister,Angus Scrimm,Paula Irvine,Samantha Phillips,Kenneth Tigar,Ruth C. Engel,Mark Anthony Major,Stacey Travis,J. Patrick McNamara,A. Michael Baldwin,Irene Korman,Troy Fromin,Katie Carlin,June Jordan,Ed Gale,Phil Fondacaro
Release: 1988-07-08
Runtime: 97
Plot:
Mike, after his release from a psychiatric hospital, teams up with his old pal Reggie to hunt down the Tall Man, who is at it again. A mysterious, beautiful girl has also become part of Mike's dreams, and they must find her before the Tall Man does.