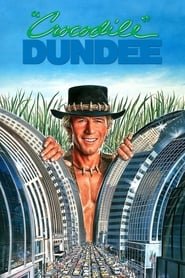 0.00/5 0 Votes
Title:
Crocodile Dundee
Genre: Adventure,Comedy
Director: Peter Faiman
Cast: Paul Hogan,Linda Kozlowski,Mark Blum,David Gulpilil,Michael Lombard,John Meillon,Ritchie Singer,Reginald VelJohnson,John Snyder,Rik Colitti,Steve Rackman,Caitlin Clarke,Anne Francine,Irving Metzman,Paul Greco,Maggie Blinco,Gerry Skilton,Terry Gill,Peter Turnbull,Khristina Totos,Graham 'Grace' Walker,David Bracks,Brett Hogan,J.J. Cole,Gwyllum Evans,Clarie Hague,Jan Saint,Peter Bucossi,Sullivan Walker,Bobby Alto,Anne Carlisle,Paige Matthews,Nancy Mette,Barry Kivel,Tony Holmes,Dan Lounsbery,Dolores Messina,Danny Aiello III,Dhonna Harris Goodale,Tony LaFortezza,Joe Pentangelo
Release: 1986-09-26
Runtime: 104
Plot:
When a New York reporter plucks crocodile hunter Mick Dundee from the Australian Outback for a visit to the Big Apple, it's a clash of cultures and a recipe for good-natured comedy as naïve Dundee negotiates the concrete jungle. He proves that his instincts are quite useful in the city and adeptly handles everything from wily muggers to high-society snoots without breaking a sweat.