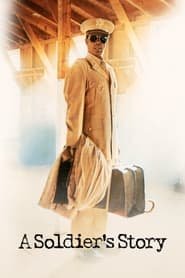 0.00/5 0 Votes
Title:
A Soldier's Story
Genre: Drama,Mystery,War,Crime
Director: Norman Jewison
Cast: Howard Rollins,Adolph Caesar,Art Evans,Robert Townsend,Denzel Washington,David Alan Grier,David Harris,Dennis Lipscomb,Patti LaBelle,Wings Hauser,Larry Riley,William Allen Young,Scott Paulin,John Hancock,Trey Wilson,Patricia Brandkamp,Carl Dreher,Vaughn Reeves,Michael Anthony Williams,Bobby McGee,Rick Ramey
Release: 1984-09-14
Runtime: 101
Plot:
In a rural town in Louisiana, a black Master Sergeant is found shot to death just outside the local Army Base. Military lawyer, Captain Davenport—also a black man—is sent from Washington to conduct an investigation. Facing an uncooperative chain of command and fearful black troops, Davenport must battle with deceit and prejudice in order to find out exactly who really did kill the Master Sergeant.