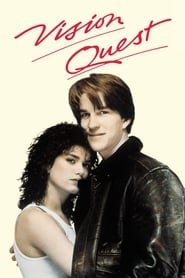 4.00/5 1 Votes
Title:
Vision Quest
Genre: Drama,Romance
Director: Harold Becker
Cast: Matthew Modine,Linda Fiorentino,Ronny Cox,Daphne Zuniga,Charles Hallahan,Michael Schoeffling,Harold Sylvester,J.C. Quinn,Madonna,Forest Whitaker,Gary Kasper,R. H. Thomson,Raphael Sbarge,Frank Jasper,Roberts Blossom,James Gammon,Tom Elkins,Jana Marie Hupp,Judith Hansen,Sean Morgan,Andrew Shue
Release: 1985-02-15
Runtime: 105
Plot:
After deciding he needs to do something meaningful with his life, high school wrestler Louden Swain sets out on a mission to drop weight and challenge the area's undefeated champion, which creates problems with his teammates and health. Matters are complicated further when Louden's father takes in an attractive female drifter who's on her way to San Francisco.